Hi all! Are you all having fun yet?
We are Jam.
We have been traveling many places in-world, but we have never seen such a fabulous sim like TEMPURA.
Botanical gardens flooded with lights, shining water, and the sky is amazing. Also, the music is heartwarming, it makes you feel relax.
Explore this beautiful sim and discover your ideal experience. You will be a fun of TEMPURA.
When you are tired or stressed out, come TEMPURA and make you refresh.
Of course, this is the best place for a walk with someone you love.
We will be introducing more nice places in TEMPURA.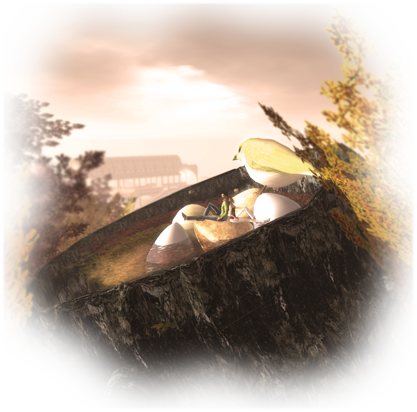 Oh, did you know there is a big bird in TEMPURA? Also, big eggs? Find them out!
And, you may find something more under the eggs. Just come and check this out:))
みんな! エンジョイしているかい!
Jamだよ。
いろいろとSL WORLDを旅してきたけど、このテンプラはすごい場所だね!
光、植物、水、空がきれいだ。それから音楽もいいよ。気分がよくなる。
確かめにくるといいよ。気に入ること間違いなし!!
つかれた時は、ここに来て気分よくしてみたら?
もちろん大事な人とは、散歩もいいよ。
これから、テンプラのいい場所をいろいろ紹介するね。
テンプラにいる鳥を知っているかい?
タマゴもあるよ!! 確かめてみてね
それから鳥の下には、何かあるよ。そっと確認してみてね!!
photograph by kikunosuke Eel