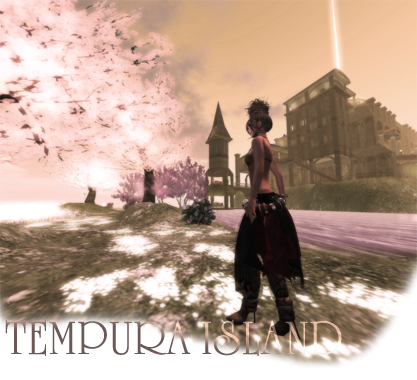 Hi, I am chikae ella, an officer of Tempura SIM.
We have very few events at Tempura. The reason is as follows.
1. Since Tempura is not pursuing profit, there is no need to gather people through events.
2. Tempura is a place where the guests can have adventures by themselves freely, and the stuffs of Tempura are rather not proposing ways to play aggressively from our side.
3. All staffs of Tempura are too busy in managing SIM, and cannot help events for guests.
Even so, there are many requests for events every day. The most popular one among them is: "Let us have a wedding ceremony at Tempura"
The owner of Tempura cannot reject the request to conduct a wedding ceremony that is a start of a happy life in the second life, at Tempura. He is a generous person. He thought out the matter, and got a conclusion, that is, "If guests are conducting a wedding ceremony at Tempura by themselves, we will remain spectators, and will bless them on the sidelines."
If you drop an IM in advance saying that "We will celebrate a wedding at Tempura", then we will cordially allow you to gather your friend and perform a marriage ceremony at a garden of Tempura freely.
Most of the couples who had wedding ceremony here used the Spring Forrest, where is the Indian lotus field. Some of the popular ways are; the bride and bridegroom dance on the round table in the lotus field and spectators are blessing them around the table, or the bridal couple sits on the large lotus flower in the field.
In any case, most of couples are dancing in the golden hall in the castle after the ceremony, and then take a rest in the suite room situated on both sides of the castle.
Also there are many couples come to Tempura a honeymoon trip. The couple who takes pictures at every spot in the SIM really looks alight with happiness.
Please have a wedding ceremony at Tempura. It might be difficult to invite so many guests, but please be blessed by Tempura. 
:: てんぷらの結婚式 ::
こんにちわてんぷらシムのオフサー、chikae ella です。
てんぷらではイベントはほとんど行っていません。その理由は次のとうりです。
1.てんぷらは利害を目的としていないので、イベントによって人を集める必要がありません。
2.てんぷらは、てんぷらにいらしてくれたお客様が、自分で好きな形で自由に冒険していただく場所であること。
3.てんぷらスタッフは全員がRLが忙しく、イベントのお手伝いは出来かねる状況です。
それでもイベントの申し込みは毎日のようにあります。その中でも一番多いのが、なんと言っても「結婚式をてんぷらでやらせてほしい」という申し込みでしょう。
SLでの幸せのスタートとなる結婚式を、てんぷらであげたいというお客様からに願いを、オーナーは断ることは出来ませんでした。彼は優しい男です。オーナは考え抜いた末に「お客様が自分で勝手にてんぷらの中で式を挙げるのなら、傍観させていただき祝福させていただく」というものでした。
前もって一言だけオーナーに「結婚式をてんぷらで挙げます」と連絡していただければ、お客様が友達を集めて、てんぷらの庭で自由に式を上げることを許可させていただいております。
今までにてんぷらで式を挙げたカップルが選んだ場所はほとんどがが春の森、つまりはす畑のあるところです。はす畑にある円卓のダンスで花婿花嫁が乗って踊りながら、周りにいる友達の祝福を受けるパターンと、はす畑にある巨大なはすに花嫁花婿が乗るパターンが多いようです。
いずれにせよここでの式が終わると花嫁花婿は城の中金のホールで踊って、その後は城の左右にあるスイートルームでくつろぐことが多いですね。
てんぷらに新婚旅行に来られるカップルもこれまた多いです。シムのあらゆる場所で記念写真を撮っておられるカップルは幸せに満ちています。
皆さんも是非、てんぷらで結婚式を挙げてくださいませ。あまり大勢のお友達を呼ぶ結婚式は無理かもしれませんが、てんぷらの祝福を受けてくださいませ。
photograph by kikunosuke Eel